This shop has been compensated by Collective Bias, Inc. and its advertiser. All opinions are mine alone. #PurinaMysteries #CollectiveBias
It's no mystery that I love my dog Lucy! I try to make sure that she has a great day every day with a couple walks, lots of treats and some relaxing time together. She wouldn't be able to join me on my
Detroit Tennis Lessons
. Then I thought… what if I could give her the Best Summer Day Ever?! I started thinking about what Lucy would like to do on her dream day and I came up with a plan to make all her dreams come true. It involves swimming, lots of belly rubs, meeting up with dog friends, giving her delicious Purina® treats, and of course some snuggle time! See how other bloggers are making
memories with their dogs
this Summer thanks to Purina® and PetSmart! Then read on to see all the details of Lucy's Best Summer Day Ever!
How To Give Your Dog The Best Summer Day Ever
1. Stock up on treats!
I made sure to stock up for our Best Summer Day Ever, but just in case you find yourself with a case of disappearing treats head to PetSmart. They have a great promotion going on this June when shoppers can get a $10 PetSmart gift card when they purchase $40 in participating Purina products. There's a variety of treats, food and even litter to choose from that's all part of this promotion. For $40 we were able to stock up on 4 huge bags of Purina® Beggin' Strips! After you shop, just upload your receipt online by July 9th. And make sure to share photos of how your pet has stolen your heart with #PurinaMysteries. Lucy always loves when she gets to join me on a trip to PetSmart, just look at that smile!
2. Head to our favorite park!
Lucy loves anywhere with water for her to jump around in, so we start her best Summer day ever at an off leash dog park with streams and trails. Tied with water as Lucy's favorite thing is treats! So I brought along Purina Beggin Strips as a special reward when she comes and sits when called. This is a higher reward treat (aka, bigger, smellier and yummier) than we usually take on walks, so Lucy was pretty pumped about it! These definitely made it easier to convince her to get out of the stream when it was time to go.
3. Hangout in the Backyard.
Lucy loves hanging out in the backyard and keeping an eye on the squirrels and neighbors. We have a nice shady yard, so it's perfect for a post-park hang session complete with plenty of belly rubs and ear scratches. Dogs need lots of downtime, especially when it's hot out, so don't forget to set aside some rest time. Although dogs love being in the garden, their urine can sometimes be the reason behind the lawn looking patchy and brown. That's why it's important to make sure that you look at ways to keep your lawn healthy after the dog has been relaxing out there! Although, it can sometimes be more straightforward to let a company like
https://www.lawncare.net/service-areas/florida/
take care of your garden for you. By taking care of the lawn, it ensures that the dog has somewhere to play! Anyway, when its time to get back up and go again, make sure your dog is getting the right nutrition. I feed Lucy a healthy diet to keep her energy levels up and reserve treats as special rewards throughout the day.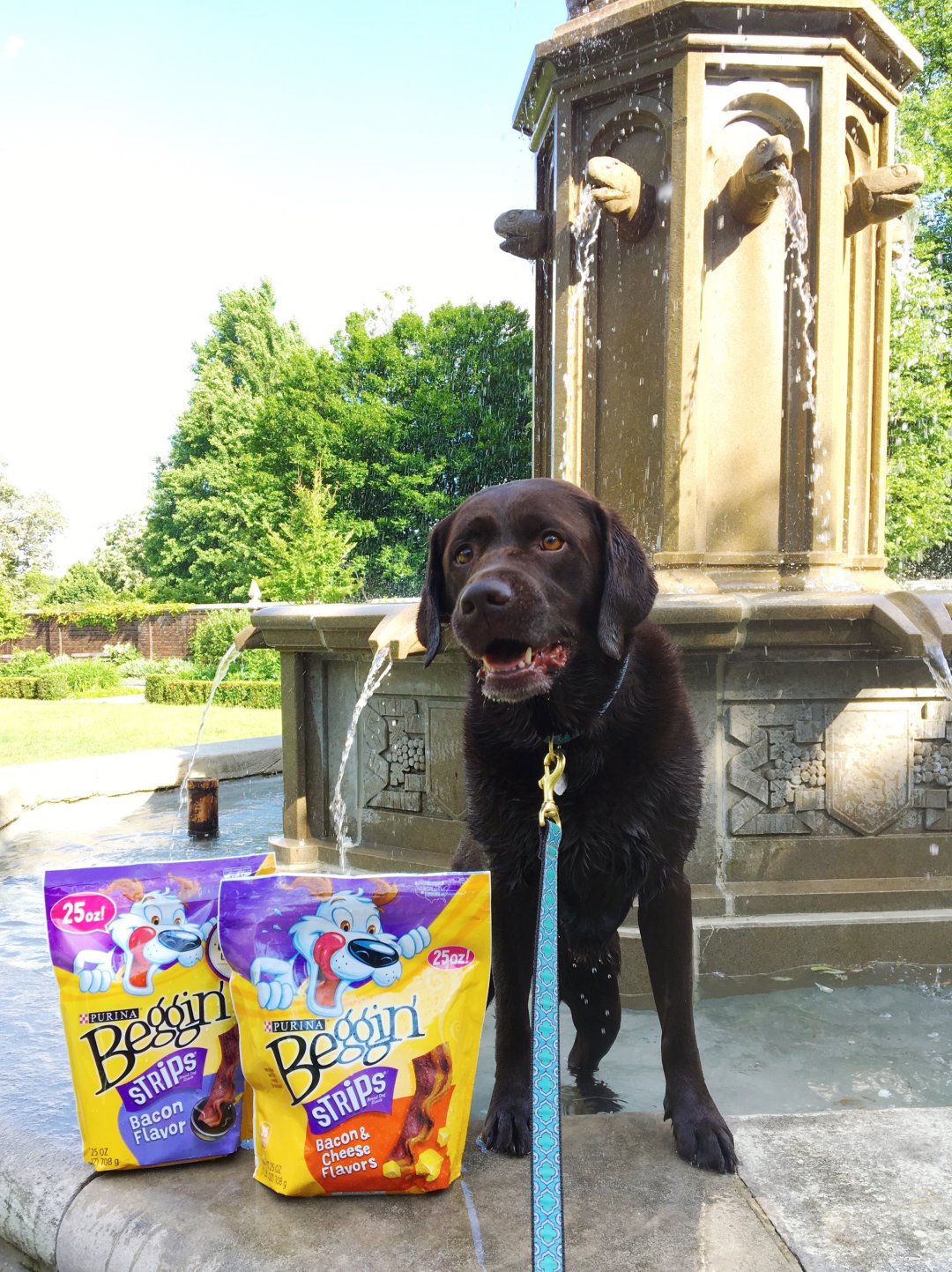 3. Time for The Second Swim of the Day!
OK, so it's not really deep enough to swim, but one of Lucy's absolutely favorite places is this fountain. I took her over for a late afternoon dip to cool off. And you better believe I brought some treats along with us! Hover over the image above to see what we bought and click to buy. If you want to stock up, 4 bags of treats will get you up around $40 so you can participate in the #PurinaMysteries promotion and get a $10 gift card back! Get all the details and
upload your receipt
by July 9th. You can take advantage of this as many times as you want in June, so shop till you drop!
4. Hang with Your Bestie!
Lucy's favorite friend is her cousin Piper. I know they don't look related, but it's my sister's dog and these two could play all day together. Lucy and I went over to their house for dinner so she could get some more play time in. They love wrestling and playing tug of war with a blue rubber squiggle!
I have one extremely happy dog on my hands now! She stole my heart, so I love to treat her to an extra special day when I can.
What Would Be Your Dog's Best Summer Day Ever?